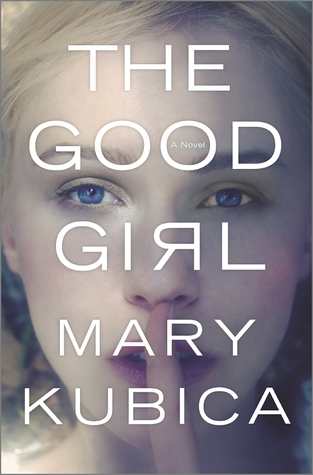 THE GOOD GIRL
by Mary Kubica
published by Harlequin MIRA
on July 29, 2014
"I've been following her for the past few days. I know where she buys her groceries, where she has her dry cleaning done, where she works. I don't know the color of her eyes or what they look like when she's scared. But I will."
Born to a prominent Chicago judge and his stifled socialite wife, Mia Dennett moves against the grain as a young inner-city art teacher. One night, Mia enters a bar to meet her on-again, off-again boyfriend. But when he doesn't show, she unwisely leaves with an enigmatic stranger. With his smooth moves and modest wit, at first Colin Thatcher seems like a safe one-night stand. But following Colin home will turn out to be the worst mistake of Mia's life.
Colin's job was to abduct Mia as part of a wild extortion plot and deliver her to his employers. But the plan takes an unexpected turn when Colin suddenly decides to hide Mia in a secluded cabin in rural Minnesota, evading the police and his deadly superiors. Mia's mother, Eve, and detective Gabe Hoffman will stop at nothing to find them, but no one could have predicted the emotional entanglements that eventually cause this family's world to shatter.
An addictively suspenseful and tautly written thriller, The Good Girl is a compulsive debut that reveals how even in the perfect family, nothing is as it seems. . . .
5 stars
I just can't believe Mary Kubica's The Good Girl is a debut novel. That's unbelievable to me. It is so gripping, so relentlessly thrilling, seemingly the work of a long-practiced wordsmith.
Told in alternating chapters of "Before" and "After" and from differing perspectives, The Good Girl tells two stories: one of a missing girl named Mia Dennett, and the other of her recovery after she returns. Both are chilling and haunting, intertwined in the perfect way to create a tense, engrossing thriller.
I read The Good Girl in two separate sittings, half at night and half the next morning. Believe me, though: the story did not leave me in between reading sessions. I spent every waking moment predicting how the story would twist, turn, and satisfy me until the end. I still didn't guess the shocking twist at the end! A talented author can take an experienced reader and flip him upside down, which is exactly what Kubica did. The novel was so enrapturing, I didn't even stop to highlight beautiful passages (which really means something)!
My only problem with the novel, and this is minor (and not even Kubica's fault), is that the cover doesn't really tell you anything about the novel. I wouldn't expect the story I read just looking at the cover.
Clearly, I'm bad at gushing, but know that The Good Girl will thrill you, shock you, make you laugh, make you cry, and do everything a book is supposed to do. I will be on serious lookout for Kubica's future works.